Featured News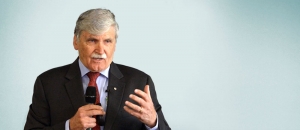 When Roméo Dallaire was young, his family lived in hell. Back then, post-traumatic stress disorder (PTSD) was not common knowledge. What Dallaire's family did know, however, was that his father—an officer with the Canadian Army—had become an alcoholic, and "it was never predictable what we would find when we got home." Peace would only come on the nights his father could chat with his Army buddies. "That night he would be serene—because he had had his therapy," said Dallaire, a Canadian senator and retired Lieutenant-General with the Canadian Army.
Speaking to more than 100 people at the University of Southern California, Dallaire said that post-traumatic stress is an injury that requires urgent attention because its impact is felt by more than just the individual—primarily, by the families—and because it can become a terminal injury, leading to suicide.  "Our families are now living the missions with us," he said. "When we send those members overseas and they come back with this injury, we can be causing casualties in their families." (read more)
Media
The USC Center for Innovation and Research on Veterans & Military Families (CIR) serves as an important source for research, analysis and expert opinions for media, policymakers, and professionals regarding veteran and military family transition issues.
Media Contact
Claudia Bustamante
Communications Manager
213-821-3654