Military Behavioral Health Journal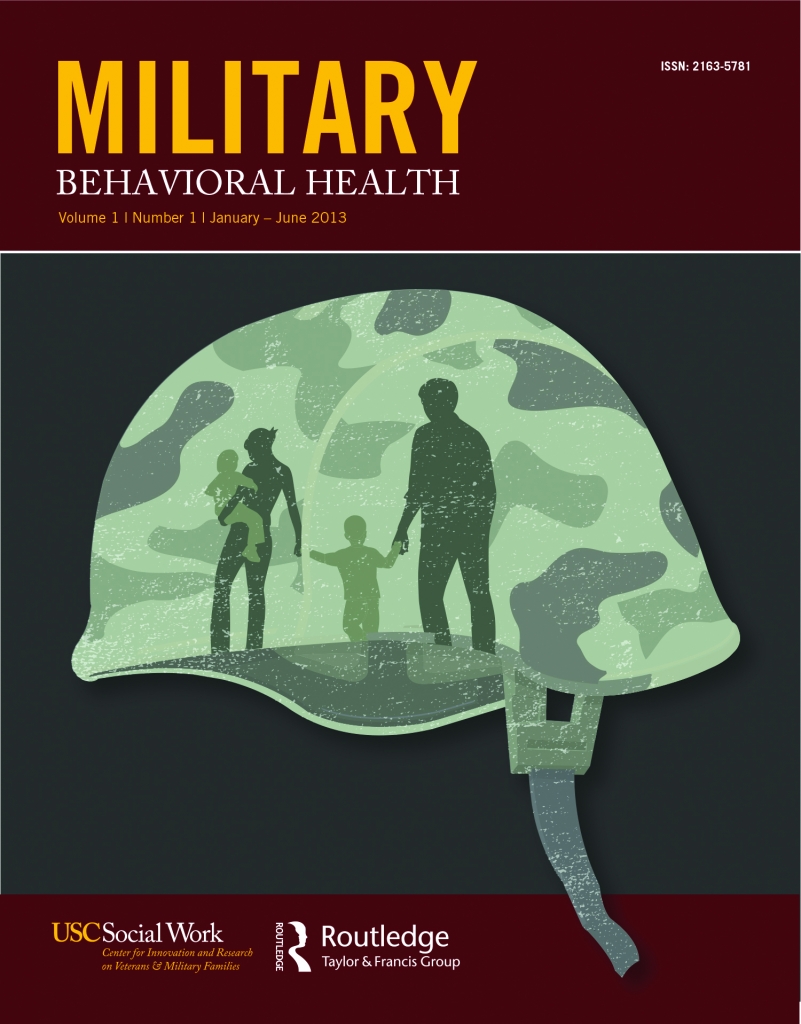 Military Behavioral Health: An International Journal of Research and Community Study is the flagship academic journal aggregating current knowledge about the biopsychosocial health and well-being of service members, veterans and military families.
The bi-annual journal, which is housed at the school's USC Center for Innovation and Research on Veterans and Military Families (CIR) and published by Routledge and the Taylor & Francis Group, addresses resiliency and transition challenges among military personnel and their families through peer-reviewed behavioral health research. Disciplines that contribute to military behavioral health knowledge include social work, psychology, public health, medicine, nursing, occupational therapy, sociology, organizational behavior, and anthropology.
Research will adhere to the following National Institutes of Health Guidelines of behavioral and social sciences research:
No restriction by discipline or methodological approach
Emphasis on theory-driven research
Search for general principles of behavioral and social functioning
Importance ascribed to a developmental lifespan perspective
Emphasis on individual variation and variation across sociodemographic categories such as gender, age and sociocultural status
Focus on both the social and biological contexts of behavior.
Topics of interest
Micro Level
(Co) Morbidity of behavioral health issues in veterans and military families
Evidence-based clinical practices
Family maltreatment
Substance use/abuse
Medical social work/care management
Child/adolescent/geriatrics
Forensic behavioral health (military detention facilities/detainees)
Behavioral health risk assessment
Trauma, sexual assault, post-traumatic stress disorder
School-based interventions
Traumatic brain injuries
Family/child coping with loss
Cross-cultural assessment/treatment
Civilian affairs and nation building
Macro Level
Program evaluation
Education/training programs
Impact of policy on units/individuals
Impact of leadership on group well-being
Deployment acculturation
Research technologies/methodologies
Program management
Accession/retention of behavioral health professionals
Cost containment
School/command consultation
Prevention/resiliency enhancement
Unit/organizational needs assessment
Preventative medicine
Epidemiology
Instructions for Authors
Thank you for choosing to submit your paper to us. These instructions will ensure we have everything required so your paper can move through peer review, production and publication smoothly. Please take the time to read and follow them as closely as possible, as doing so will ensure your paper matches the journal's requirements. For general guidance on the publication process at Taylor & Francis please visit our Author Services website.
The journal uses ScholarOne Manuscripts (previously Manuscript Central) to peer review manuscript submissions. Please read the guide for ScholarOne authors before making a submission. Complete guidelines for preparing and submitting your manuscript to this journal are provided below.
Please note that Military Behavioral Health uses CrossCheck™ software to screen papers for unoriginal material. By submitting your paper to Military Behavioral Health you are agreeing to any necessary originality checks your paper may have to undergo during the peer review and production processes.
Military Behavioral Health receives all manuscript submissions electronically via its ScholarOne Manuscripts site located at: http://mc.manuscriptcentral.com/mbh. ScholarOne Manuscripts allows for rapid submission of original and revised manuscripts, and facilitates the review process and internal communication between authors, editors, and reviewers via a web-based platform. ScholarOne technical support can be accessed at http://scholarone.com/services/support/. If you have any other requests, please contact Eva Alday, the journal's Managing Editor, at .
Manuscripts MUST be accompanied by a statement that it has not been published or submitted simultaneously for publication elsewhere. Authors are responsible for obtaining permission to reproduce copyrighted material from other sources and are required to sign an agreement for the transfer of copyright to the publisher. All accepted manuscripts, artwork, and photographs become the property of the publisher.
Publication Details
Print ISSN 2163-5781
Online ISSN 2163-5803
Subscriptions
Institutional (print and online): U.S. $286
Institutional (online only): U.S. $250
Individual (print only): U.S. $60
Contact Information
Eva Alday
Managing Editor, Military Behavioral Health
USC Suzanne Dworak-Peck School of Social Work