Military Behavioral Health Journal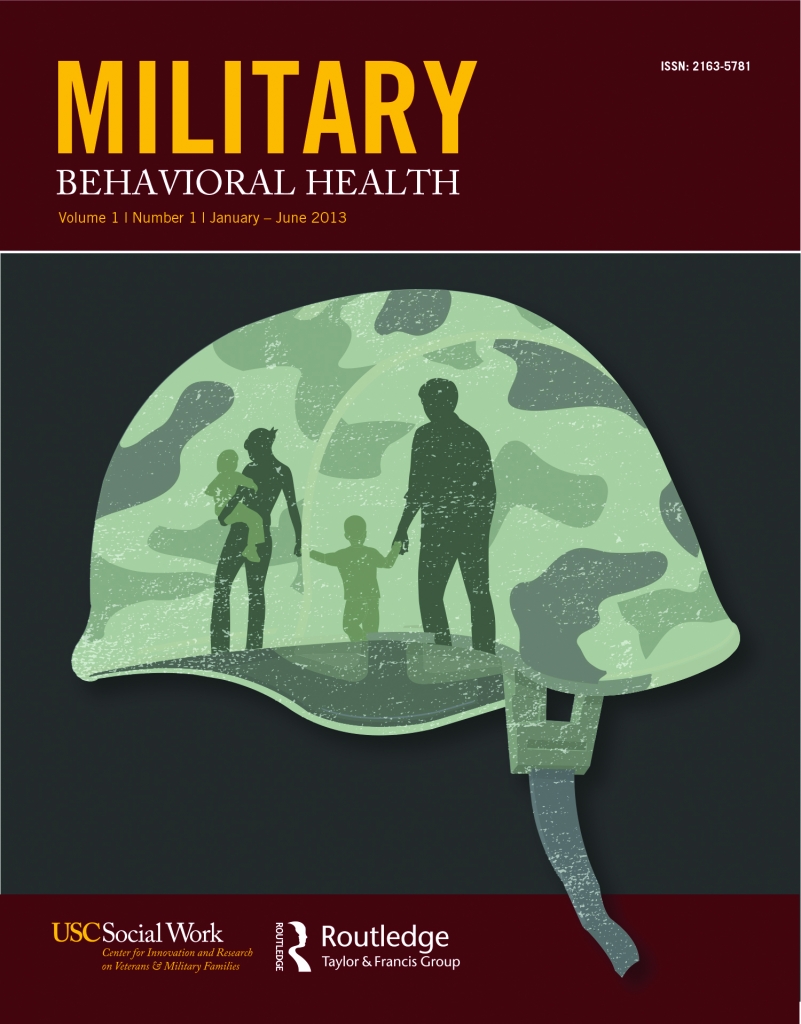 Military Behavioral Health: An International Journal of Research and Community Study is the flagship academic journal aggregating current knowledge about the biopsychosocial health and well-being of service members, veterans and military families.
The bi-annual journal, which is housed at the school's USC Center for Innovation and Research on Veterans and Military Families (CIR) and published by Routledge and the Taylor & Francis Group, addresses resiliency and transition challenges among military personnel and their families through peer-reviewed behavioral health research. Disciplines that contribute to military behavioral health knowledge include social work, psychology, public health, medicine, nursing, occupational therapy, sociology, organizational behavior, and anthropology.
Research will adhere to the following National Institutes of Health Guidelines of behavioral and social sciences research:
No restriction by discipline or methodological approach
Emphasis on theory-driven research
Search for general principles of behavioral and social functioning
Importance ascribed to a developmental lifespan perspective
Emphasis on individual variation and variation across sociodemographic categories such as gender, age and sociocultural status
Focus on both the social and biological contexts of behavior.
Topics of interest
Micro Level
(Co) Morbidity of behavioral health issues in veterans and military families
Evidence-based clinical practices
Family maltreatment
Substance use/abuse
Medical social work/care management
Child/adolescent/geriatrics
Forensic behavioral health (military detention facilities/detainees)
Behavioral health risk assessment
Trauma, sexual assault, post-traumatic stress disorder
School-based interventions
Traumatic brain injuries
Family/child coping with loss
Cross-cultural assessment/treatment
Civilian affairs and nation building
Macro Level
Program evaluation
Education/training programs
Impact of policy on units/individuals
Impact of leadership on group well-being
Deployment acculturation
Research technologies/methodologies
Program management
Accession/retention of behavioral health professionals
Cost containment
School/command consultation
Prevention/resiliency enhancement
Unit/organizational needs assessment
Preventative medicine
Epidemiology
Manuscript Submission
Authors may submit manuscripts electronically to Senior Editor Jeffery Wilkins, MD, at
.
Two complete original manuscripts should be attached to the email submission. The first one should be complete and include all the necessary information. For purposes of blind peer review, the second document should be clear of the author(s) name(s) and any information that can identify the origin/ author of the manuscript. Submission of a manuscript to this journal represents a certification on the part of the author(s) that it is the original work of the author(s) and that it has not been published or submitted simultaneously for publication elsewhere. A note to state the above should accompany the manuscript. Authors are responsible for obtaining permission to reproduce copyrighted material from other sources and are required to sign an agreement for the transfer of copyright to the publisher. All accepted manuscripts, artwork and photographs become the property of the publisher.
Manuscript Format
All manuscripts must be typed, double-spaced, using the 12-point font, with margins of at least one inch on all sides. The page size should be set to 8.5 x 11 inches, and manuscripts should be approximately 20 pages (5,000 words) in length. Page numbers should appear at the top of each page. Each submission should include an abstract of not more than 100 words, followed by a minimum of 10 key words. Please note the current American Psychological Association Style (apa.org) should be followed. Author contact information should be listed after the key words and include academic degrees, professional titles, affiliations and mailing address, as well as phone numbers, fax numbers and email addresses. The corresponding author should be clearly identified. Acknowledgements (if any) follow after author(s) contact information.
Reference List
A reference list should appear at the end of the manuscript followed by any referenced tables and figures.
Illustrations
Illustrations submitted (line drawings, halftones, photos, photomicrographs, etc.) should be clear originals or digital files. Digital files are recommended for the highest quality reproduction and should follow these guidelines:
300 dpi or higher
Sized to fit on journal page
EPS, TIFF or PSD format only
Submitted as separate files, not embedded in text files.
Tables and Figures
Tables and figures (illustrations) should follow the reference list. All units must be included. Figures should be completely labeled, taking into account necessary size reduction.
Peer Review
Submitted manuscripts will undergo a blind peer review of at least two reviewers. Following the review process, the editor will make the final decision based on the reviews received. Reviewer comments will be shared with authors.
Proofs
Page proofs are sent to the designated author using Taylor & Francis' Central Article Tracking System (CATS). They must be carefully checked and returned within 48 hours of receipt.
Reprints and Issues
Reprints of individual articles are available for order at the time authors review page proofs. A discount on reprints is available to authors who order before print publication. Each corresponding author will receive three complete issues in which the article is published, as well as a complimentary PDF. This file is for personal use only and may not be copied and disseminated in any form without prior written permission from Taylor and Francis Group, LLC.
Publication Details
Print ISSN 2163-5781
Online ISSN 2163-5803
Subscriptions
Institutional (print and online): U.S. $222 / £134 / Euro 178
Institutional (online only): U.S. $199 / £121 / Euro 159
Individual (print only): U.S. $45 / £27 / Euro 36
Contact Information
Jeffery Wilkins, MD
Senior Editor, Military Behavioral Health
Center for Innovation and Research on Veterans & Military Families