Conference Report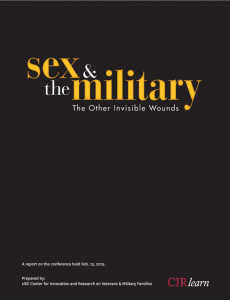 Friday, February 13, 2015 | Los Angeles, California
"Sex & The Military: The Other Invisible Wounds" was a one-day conference held in Los Angeles aimed at raising awareness of the sexual and intimacy issues experienced by military populations. Experts from a range of fields — physical and psychological — presented on diverse areas, including the sexual side effects of mental health medication, military sexual trauma among men, emotional resiliency,  modern urotrauma, and more. Participants were also provided with a toolkit to help providers address these issues with their military clients.
Download Conference Report
Soundcloud: Sex & the Military
Study Publications
Project Overview
Funded by Iraq Afghanistan Deployment Impact Fund of the California Community Foundation, 2013–2014
Principal Investigator: Sherrie Wilcox
Co-principal Investigators: Anthony Hassan, Kathleen Ell and Doni Whitsett
The USC Center for Innovation and Research on Veterans & Military Families (CIR) is conducting an 18-month project that focuses on male and female sexual dysfunction that occurs as a result of physical and psychological combat-related injuries from military service. This project will result in:
• the nation's first training module for social workers and behavioral health professionals who treat sexual dysfunction as a result of combat related injuries in military populations;
• increased national awareness about what has typically been a silent but critical issue for veterans and their spouses/ partners;
• the publication of scientific research and policy reports that will be disseminated to the research community, behavioral health professions, veteran service organizations and a wide range of policymakers working with military populations.
This project is unique in that it emphasizes both psychological and physical injuries as contributors to sexual dysfunction. The educational benefits that students and behavioral health providers will gain through specialized training and education will help them to more comfortably and knowledgably assess for sexual dysfunction in military populations. By embedding this training into graduate and post-graduate training, CIR will permanently enhance skills of those who serve our veterans and military families, transforming this issue from one of silence and shame, and offering proactive and effective treatment that leads to restored wellness and improved quality of life.