Upcoming Events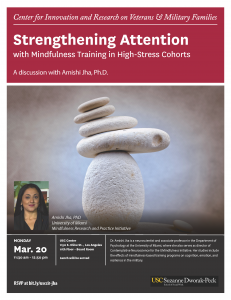 Amishi Jha, PhD, is a neuroscientist and associate professor in the Department of Psychology at the University of Miami, where she also serves as director of Contemplative Neuroscience for the UMindfulness Initiative. Jha's research includes neural bases of attention and the effects of mindfulness-based training programs on cognition, emotion and resilience in the military.
*Lunch will be provided.
**RSVP required to clear building's security desk.
WHEN: Monday, March 20, 11:30 a.m. – 1 p.m.
WHERE: USC City Center, 1150 S. Olive St., 11th Floor Board Room
RSVP: bit.ly/usccir-jha
Past Events