by Teresa Rosales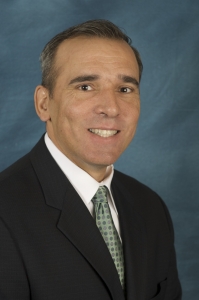 The USC School of Social Work was well-represented among this year's USC Community Service Award winners, which included MSW@USC student Carla Groves and Anthony Hassan, director of the school's Center for Innovation and Research on Veterans and Military Families, who were recognized for their extensive service in the military community.
The awards, which represent a collaboration between USC Government and Civic Engagement, USC Volunteer Center and the Joint Educational Project, honor those at USC who have devoted an immeasurable amount of their time to community service projects. The awards highlight the importance of community service to USC and reinforce the shared commitment to volunteerism held among members of the Trojan family.
Hassan, who received the Faculty Champion award from Government and Civic Engagement, is a retired Air Force officer with 25 years of experience in military social work and leadership development. In addition to overseeing the school's military social work research center, he chairs the Military Social Work and Veteran Services sub-concentration. Hassan also chairs the Council on Social Work Education's task force that develops national guidelines for graduate programs in military social work.
He said the award truly validates the work of the Center for Innovation and Research on Veterans and Military Families, which aims to develop best practices in the field of behavioral health and train the next generation of military social workers to help veterans and their families overcome the effects of combat service.
"We strive to build community capacity so that our veterans and their families are supported when they return home from war or military service," Hassan said. "This award tells me that we are indeed strengthening the transition for veterans and their families in our communities. We are able to do this important work because of the great vision and innovation of our dean, outstanding faculty and the support of USC senior leadership."
MSW@USC student Groves was also recognized for her involvement in the military community with the 2012 Student Volunteer Recognition Award given by the USC Volunteer Center.
Groves, who currently lives in Alaska, comes from a four-generation military family and is married to a career Army soldier. Because of her lifetime involvement with the military, she is aware of the struggles soldiers and their families face.
No matter where her husband's assignment takes them, Groves stays involved with family readiness groups, which provide practical tools to servicemembers and their families for adjusting to military deployment and separation with the goal of creating a sense of community within the unit. She currently leads one of these groups, scheduling and running meetings, planning events and fundraisers, and maintaining communication with soldiers' spouses and families.
Groves also dedicates her time to casualty response teams—groups of military relatives that come to the aid of other families when they are notified of an injury or death of a servicemember.
"It is a challenging but necessary role," she said of her community service work, which she describes as her "calling."
Groves' work also extends to her Virtual Academic Center colleagues. She created the Military Spouses group that provides a safe community for military-affiliated students to share information and stories, as well as vent their frustrations. The group started with 14 members and has grown to nearly 80.
Maryalice Jordan-Marsh, associate professor at the School of Social Work, nominated Groves for the award, saying that Groves went above what was expected of her.
"That she moved beyond her internship requirements to create such an important program speaks to USC's values of including a diverse group of individuals as a focus for our service to the community," Jordan-Marsh wrote in her letter recommending Groves for the award. "She has created a climate of support that is essential as the spouses live through deployments and transfers while working to obtain an advanced degree."
Jordan-Marsh also noted that Groves will continue to support the military community beyond her coursework with an 18-month research project, Stress in the Military: An Investigation of Critical Time Points in the Deployment Cycle Among Service and Family Members. To conduct her study, Groves has the full support of a military unit in the pre-deployment stage of a tour to Afghanistan.
"It's nice to be recognized," Groves said. "But the work I have done is something I did without thought of reward, other than the experience."