Few veteran services focus on prevention of chronic conditions, like unemployment and homelessness
LOS ANGELES — Many service members leaving the military and returning to Los Angeles County are not prepared for the transition home and have a range of needs that cannot be easily provided by a single organization, according to a new University of Southern California School of Social Work report released Tuesday.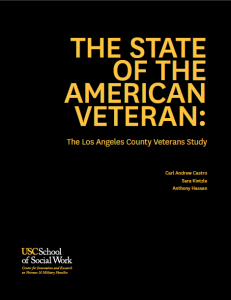 "The State of the American Veteran: The Los Angeles County Veterans Study" by the USC School of Social Work's Center for Innovation and Research on Veterans & Military Families outlines the findings of a survey conducted fall 2013 of more than 1,350 veterans living in Los Angeles County. This first comprehensive study of a large urban military population, which also included follow-up focus groups with 72 veterans, explored numerous areas, such as transition challenges, employment and finances, housing, health and access to veteran services.
"The main thing we learned with this study is that separating service members leave the military, and they enter civilian communities with a myriad of issues. There is not a singular need. No one says, 'I just need a job' or 'I just need housing,'" said Carl Castro, lead author and assistant professor at the USC School of Social Work.
"Similarly, we have to take a multiple, holistic approach to helping veterans transition."
More than two-thirds of all surveyed veterans reported difficulties adjusting to civilian life, and specifically 69 percent of post-9/11 veterans indicated they needed time to figure out what they would do after the military.
The study found many veterans leave the military without having lined up some key elements that could complicate their transition home.
Nearly eight in 10 veterans left the military without a job, expecting to quickly find meaningful employment.
About 40 percent of veterans left the military unsure of where they would be living.
Many left active duty with untreated physical and mental health issues, which was higher among post-9/11 veterans. Among the most recent veteran population, one-third had made a plan to commit suicide but did not seek help, compared to 24 percent of pre-9/11 veterans.
Robust public awareness campaign needed
The study also found that significant barriers exist for all veterans preventing them from seeking help; however, post-9/11 veterans reported higher perceptions of them, especially in regards to concerns about confidentiality and potential harm to their careers. More than half of post-9/11 veterans did not know where to go or who to see for help. More than a third of post-9/11 veterans thought they could handle their challenges on their own (37.2 percent) or had difficulty scheduling an appointment (37.1 percent).
Surveyed veterans noted they needed a wide range of services. For post-9/11 veterans, more than six in 10 respondents identified assistance needed for employment, education and Veterans Affairs benefits. The top three areas identified by pre-9/11 veterans were for assistance for VA services, healthcare and education.
Key among the report's recommendations was an expansion of the military's mandated transition program, which veterans are required to take prior to exiting the military, that could focus on ensuring veterans have lined up a job and housing in their community. Also recommended was a robust community public awareness campaign that would include family and friends of returning service members to address some of the main barriers to accessing care, such as identifying assistance programs and reducing the stigma around health care, especially mental health.
Mayoral support
Most of these recommendations included a coordinated approach with the U.S. Departments of Defense, Veterans Affairs, and local civic and community organizations.
"This groundbreaking study will help ensure our policy making is better aligned with the needs of our veterans and show us how best to allocate scarce resources. With this data, we will design improved initiatives to do more to reduce unemployment, homelessness and other transition challenges," said Los Angeles Mayor Eric Garcetti. "As a Navy reservist, it's especially important to me that those who wear our nation's uniform are fully supported when they come home. And as mayor, I understand that pays dividends for all of us."
The timing of this study and its recommendations is critical. Each year, about 12,000 veterans return to Los Angeles County, already home to the nation's largest veteran population with more than 325,000 veterans, and many will need coordinated services upon return.
"This study has provided actionable data that can drive prevention and early intervention strategies to ensure our returning service members can make a successful transition home," said Anthony Hassan, the center's director and clinical professor.
"With this data, Los Angeles is now poised to be an example for other communities across America on how to come together to support the holistic needs of veterans when they return home."
The Center for Innovation and Research on Veterans & Military Families (live-usc-cir.pantheonsite.io) aims to strengthen the transition of veterans and their families into the community through research, education and training, and global partnerships. The center is focused on rapidly increasing the number of clinical social workers and behavioral health providers trained to treat the challenges service members, veterans and their families face, as well as mental health research that can be directly and quickly translated into clinical practice.