by Claudia Bustamante
The recognition and praise associated with a Medal of Honor for heroics during one of the deadliest battles in Afghanistan does not come easy to Staff Sgt. Ty Michael Carter. But that is starting to change.
"I've learned to accept it because I now have a new mission," he said.
Speaking to more than 100 people Tuesday at the University of Southern California, Carter said he wants to use his newfound attention to destigmatize the invisible wounds of war—post-traumatic stress disorder.
"One of the things that prevent these individuals from seeking help is that they're worried they'll be treated different," he said.
Carter's audience was familiar with the challenges of reaching out to active duty service members and veterans to seek treatment.
"Staff Sgt. Ty Carter's new mission is our mission—to save lives and improve the lives of our veterans and their families," said Anthony Hassan, director of the Center for Innovation and Research on Veterans & Military Families at the USC School of Social Work, which hosted the event. "We cannot fail at this mission."
USC is the first research university to offer a large-scale military social work program, and the center harnesses that expertise to rapidly increase the number of clinical social workers and behavioral health providers trained to treat the challenges troops, veterans and their families face. It aims to promote community awareness and reintegration into civilian life through culturally competent care and evidence-based practices.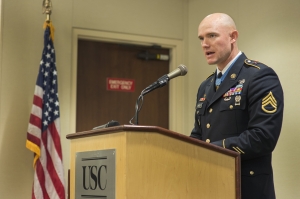 Carter echoed many of the research-based techniques that social work students, especially those in the military sub-concentration, have learned regarding how best to approach service members and veterans seeking treatment: Do not lie to them. Do not say you can relate to their situation.
"[Therapists] can't understand what you go through, but hopefully they do understand the techniques for you to help yourself," he said.
Carter also stressed the need for open dialogue about post-traumatic stress that includes educating families and loved ones. They are typically the first lines of defense and bear the brunt of the challenges experienced by returning veterans.
Ron Astor, social work professor, said that what Carter did four years ago in battle was heroic, "but what you're doing right now—opening up and educating society—is tremendous."
Combat Outpost Keating, situated in a valley in Nuristan Province, Afghanistan, was the site of one of the most intense battles of Operation Enduring Freedom. On Oct. 3, 2009, Carter and his fellow soldiers engaged with more than 300 insurgents for 13 hours. In the end, eight American soldiers died, 25 were injured, and even more carried the unseen scars of what they had experienced.
For Carter, then a specialist, the images of what happened that day and after the battle remain clear. He remembers seeing Sgt. Justin Gallegos struck by several rounds and die. He remembers wanting to render aid to a soldier and being told no by his sergeant. He remembers sleeping next to the burnt remains of the outpost. Worst of all, he remembers how the soldier he rescued and tried so hard to save, Spc. Stephan Lee Mace, later succumbed to his wounds and died.
"Because of that, I believed I was a failure," Carter said. "I felt others were ashamed to be around me."
Carter resisted initial attempts at receiving help even when leadership physically escorted him to a behavioral therapist after the battle.
"I didn't want to go to group counseling. I didn't think I had issues. I didn't want to deal with it," he said. "When you're going through post-traumatic stress, depression kicks in. You don't see loved ones trying to help. All you see is the negative."
The permanent ringing in his ear was also a constant reminder of what he had been through, so Carter said he sought to drown out the noise—at bars.
But, eventually, because of the support of his family, friends and unit, he sought treatment to deal with his post-traumatic stress and has survived the secondary battle.
Others have not been so lucky.
Carter often refers to a ninth victim of COP Keating, Pvt. Ed Faulkner, Jr., who survived the battle, but later suffered from mental health issues and drug abuse that led to suicide. His reason for now embracing the attention that comes with receiving the nation's highest award is to use it as a platform to prevent suicide among service members. The first step toward that goal is to talk about his personal struggles with post-traumatic stress and educate the public.
"Post-traumatic stress is as common as eating breakfast and as healable as putting a Band-Aid on a scrape," Carter said. "Suicide can be prevented. Quality of life can be restored."
This piece was also published on the USC School of Social Work news site.