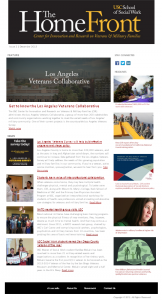 The December edition of The Home Front is available online. CIR's monthly newsletter highlights the center's work, along with the latest military social work research and news from the USC School of Social Work. This issue includes:
 – A video on the Los Angeles Veterans Collaborative
 – A NATO visit to USC
 – An MSW student named Veteran of the Year.
Join our mailing list to receive The Home Front in your inbox.