by Claudia Bustamante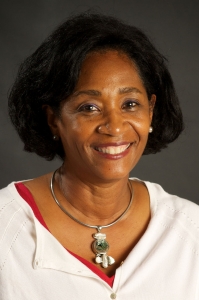 If you ask Kimberly Finney to list her accomplishments, you'd be hard-pressed to get a response—not because there haven't been noteworthy moments in the retired U.S. Air Force officer's career, but because that's not her style.
"It's just part of my training. If there's something to be done, you just do it," said Finney, a clinical psychologist and clinical associate professor with the USC School of Social Work. "I very rarely take time to pause to look at what I'm doing or what I've done until someone points it out to me."
Luckily, someone has pointed it out.
Most recently, Finney was honored by the City of Carson, Calif., with the Sylvia Blanton Award for her continued contributions to the well-being of veterans by educating the future workforce of military social workers. She also received a congressional commendation from U.S. Rep. Janice Hahn and recognition from California Assemblyman Isadore Hall, III, both of whose districts include the South Bay city.
Since retiring from the Air Force in October 2012, Finney has been working at the USC Center for Innovation and Research on Veterans & Military Families (CIR) and teaching within the Military Social Work sub-concentration at the USC School of Social Work, which aims to train students to address the unique challenges facing veterans, active duty military and their families.
"I wanted to share with the up-and-coming new social workers the value of the training and opportunities I've had throughout my career," she said.
Presented at the Women Veterans Symposium sponsored by Carson's Veterans Affairs Commission, the award was meant for someone who had already ended their military service, but remained active within the veteran community.
The award's namesake, Blanton, is a local Air Force veteran who was challenged by drug addiction and homelessness after leaving the military. She managed to clean herself up, go back to school and work at New Directions, helping provide residential care to female veterans.
Commissioner Janel Watt said they wanted to honor that same spirit of giving back.
"Sylvia could have worked in any community, but she decided to stay in the veteran community. The same is true of Dr. Finney who could have taught at another school that had no military connection," Watt said.
Making a Connection
CIR director Anthony Hassan said he recruited Finney and endorsed her hire at the USC School of Social Work because of her unique background as both a military officer and clinician.
"She was exactly what we needed in our school, for the military social work program and at our center," Hassan said. "She has a wonderful way of relating to people. I can see why she's been so effective in the clinic and so loved by her students."
Finney entered the Air Force in 1989 as a laboratory officer and was assigned to Wright-Patterson Air Force Base in Ohio, where she established its first blood donor center and initiated bone marrow screening. In 1994, she left active duty service to pursue a doctoral degree in clinical psychology. Finney continued her service as a member of the Air Force Reserves, and following several assignments as an Air Force psychologist, she was selected Field Grade Psychologist of the Year for 2003 by Air Force Space Command.
Finney's final assignment was flight commander of the mental health clinic at Los Angeles Air Force Base, where she was responsible for the delivery of mental health services, family advocacy and substance abuse services to the 8,300 beneficiaries served by the clinic. She was so adept at making a connection with her clients that it was often reflected by her increasing caseload as more and more people requested to see her.
Oftentimes, clinicians and therapists only have one opportunity to make a connection with a service member who is seeking help. Finney, who knows a singular opportunity could be life-saving, has been helping her students bridge the divide to make a connection.
"It's an art and a science," she said. "You can be super scientific, but what's the point if you can't apply that in a way that's useful to another human being."