Chicagoland Veterans Study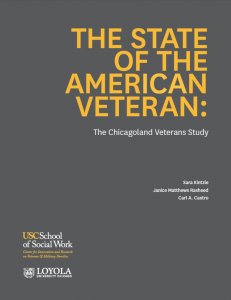 The Report
The State of the American Veteran: The Chicagoland Veterans Study surveyed nearly 1,300 veterans, along with follow-up focus groups with 20 veterans, in Cook, DuPage, Lake and Will counties. The study was conducted in partnership with Loyola University Chicago School of Social Work.
The study found that many service members leaving the military and returning to the Chicagoland area are not prepared for the transition home and have a range of needs that cannot be easily addressed by a single organization.
The study found many veterans leave the military without having lined up some key elements that could complicate their transition home.
About 61 percent of pre-9/11 and 65 percent of post-9/11 veterans left the military without a job, expecting to quickly find meaningful employment.
About half of pre-9/11 and 42 percent of post-9/11 veterans left the military unsure of where they would be living.
Many left active duty with untreated physical and mental health issues, which were higher among post-9/11 veterans. Among the most recent veteran population, nearly one in four veterans was at risk for suicide but did not seek help, compared to 11 percent of pre-9/11 veterans.
Download full report

Download single-page version
Study Overview
Working alongside Loyola University Chicago School of Social Work, the Chicagoland Veterans Study polled nearly 1,300 veterans beginning summer 2015. The survey tackled a range of issues, including adjustment to civilian life, housing, employment, physical and mental health, and barriers to care.
The essential data gathered will help identify local needs and opportunities for program and service development. We hope to provide new insights that will inform efficient community-based initiatives, targeted intervention strategies, cost-effective community action plans and a data-driven local policy framework for veterans in and around Chicago.
The Chicagoland Veteran Study is the most recent study of a large, urban military population by the center. CIR developed the first comprehensive study assessing the opportunities and challenges in serving a large urban region's military community. In 2013, the center surveyed the military population in Los Angeles County, home to the largest population of veterans in the country. The following year, a similar study in Orange County, California, was undertaken to further our understanding of military-affiliated needs within California.
For more information about the study, contact Sara Kintzle at , Janice Rasheed at , or Mariceli Serrano at .
Related: