San Francisco Veterans Study
The Report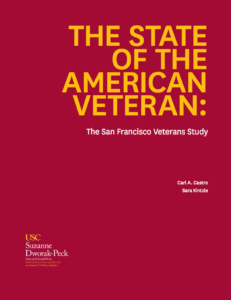 The State of the American Veteran: The San Francisco Veterans Study polled more than 700 veterans to help identify opportunities for program development, public policy and community collaboration in the Bay Area.
It found that most service members leaving the military and returning to the San Francisco Bay Area are not prepared for the transition home and have a range of needs that cannot be addressed by a single organization. This lack of preparedness was seen across all four community studies, but San Francisco's veterans fared worse on a number of measures:
Nearly 80 percent of veterans left the military without a job;
Two in five veterans reported being homeless in the past year;
More than half of San Francisco veterans have probable PTSD and nearly two-thirds likely have depression; and
Almost half (46 percent) of San Francisco veterans were considered at risk for suicide.
Download Full Report

Key Findings
Press Release
Study Overview
The San Francisco Veterans Study hopes to poll veterans in the Bay Area. The survey will tackle a range of issues, including adjustment to civilian life, housing, employment, physical and mental health, and barriers to care.
The essential data gathered will help identify local needs and opportunities for program and service development. We hope to provide new insights that will inform efficient community-based initiatives, targeted intervention strategies, cost-effective community action plans and a data-driven local policy framework for veterans in and around the San Francisco Bay area.
The San Francisco Veterans Study is the most recent study of a large, urban military population by the center. CIR developed the first comprehensive study assessing the opportunities and challenges in serving a large urban region's military community. In 2013, the center surveyed the military population in Los Angeles County, home to the largest population of veterans in the country. The following year, a similar study in Orange County, California, was undertaken to further our understanding of military-affiliated needs within California. Currently, CIR is conducting a similar effort in Chicago.
For more information about the study, contact the study team at .
Related: