Los Angeles County Veterans Study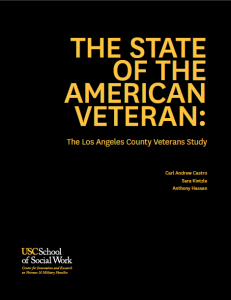 The USC Center for Innovation and Research on Veterans & Military Families developed the first comprehensive study assessing the opportunities and challenges in serving the region's military community.
The survey of more than 1,350 veterans, along with follow-up focus groups with 72 veterans, has yielded valuable data that will allow government and community organizations like the Los Angeles Veterans Collaborative to fully understand the needs of veterans and their family members, and identify resources throughout the county. The center's researchers will employ the data to evaluate what works, what doesn't and why.
For more information about the study, contact Sara Kintzle at .
Full Report:
Download full report
On Sept. 30, 2014, CIR officially released "The State of the American Veteran: The Los Angeles County Veterans Study." According to the findings, more than two-thirds of all surveyed veterans reported difficulties adjusting to civilian life.
Other key findings include:
Nearly eight in 10 veterans left the military without a job.
About 40 percent left the military unsure of where they would be living.
Many left active duty with untreated physical and mental health issues.
Related:
USC report finds most veterans return to Los Angeles unprepared for civilian life
USC military social work center launches first county-wide veterans survey
Visit In the Media for coverage of the Los Angeles County Veterans Study.
Related: