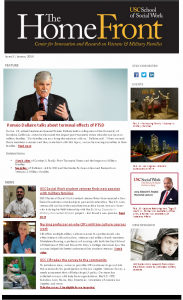 The January edition of The Home Front is available online. CIR's monthly newsletter highlights the center's work, along with the latest military social work research and news from the USC School of Social Work. This issue includes:
– Full coverage of Canadian Senator and retired Lieutenant-General Roméo Dallaire's visit to the University of Southern California, including photos from his visit to CIR and a video of his colloquium on post-traumatic stress disorder and families.
– Spotlight on a promising USC student veteran who received a Gary Sinise Foundation scholarship to pursue his Master of Social Work.
– Video testimonial of the benefits of CIR's military cultural competency courses for professionals.
-Upcoming events.
Join our mailing list to receive the monthly newsletter via email.