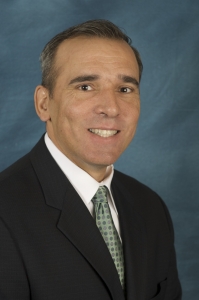 Los Angeles Mayor Eric Garcetti today announced the appointment of Anthony Hassan, director of the USC Center for Innovation and Research on Veterans & Military Families, to a new council that will advise the mayor's administration on issues affecting the city's military community.
The Military Veteran Advisory Council is an initiative of the recently launched Mayor's Office of Veterans Affairs, created to address the needs of veterans in Los Angeles, home to the highest concentration of veterans in the country. The office is working to coordinate resources with a variety of stakeholders to support veterans in Los Angeles and seek strategies to mitigate the potential for long-term unemployment, instability and homelessness.
"Serving those who have served our country is of utmost importance," Garcetti said. "I look forward to working with the leaders on the Military Veteran Advisory Council to better coordinate local, state, and federal resources to enhance the quality of life of our veteran community, especially for those who need it most."
A retired Air Force officer, Hassan is also chair of the USC School of Social Work military social work program, which aims to rapidly increase the number of clinical social workers and behavioral health providers trained to treat the challenges troops, veterans and their families face.
The council will hold its first meeting on Feb. 27 at Bob Hope Patriotic Hall. The other members of the council are:
Jason Hwang, aveteran of the U.S. Marine Corps and president of New World Consulting, a legal firm. He also currently serves as the vice president of the Korean American Veterans Association of Los Angeles and on the Olympic Police Station Advisory Committee and the United States National Defense Corps., 8th Division.
Maribel Marin, executive director LA County 211, the non-profit agency dedicated to helping LA county residents access information and obtain referrals on a 24/7 basis, in over 140 languages, for social services in their community.
Rafael F. Nadal, a veteran of the U.S. Army, 509 Mechanized Infantry Battalion, Airborne. He currently works as a building contractor with a specialty in interior design.
Stephen Peck, a veteran of the U.S. Marine Corps and president and CEO of U.S. VETS, a nonprofit/ for-profit partnership that provides transitional housing, employment assistance, and clinical counseling to homeless veterans. He previously served as an outreach social worker at the West Los Angeles VA Medical Center and was founder and president of the Far From Home Foundation, a non-profit formed to bring attention to the homeless veteran issue nationwide.
Armen Ross, a U.S. Army veteran and founder and president of The Ross Group, a consulting firm. He previously served as deputy mayor for homelessness, director of homeless services, and assistant chief of staff under Mayor James K. Hahn.
Stephanie Stone, a U.S. Navy veteran and chief deputy director of the Los Angeles County Department of Military and Veterans Affairs, where she oversees operations at Bob Hope Patriotic Hall for use by and for veterans and veteran service organizations. She also served as chair of the Mayor's Committee on Military and Veteran Affairs under Mayors Riordan and Hahn, and as chair of the Los Angeles County Advisory Commission on Veteran Affairs.
Related:
LA mayor lauds USC for leading military social work, Castro presents on veterans