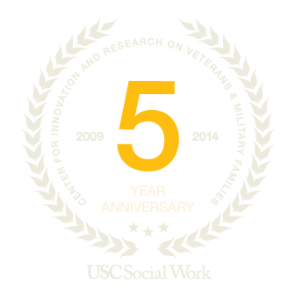 Five years ago, the USC School of Social Work launched the military social work program and the Center for Innovation and Research on Veterans & Military Families (CIR). In a short time, both initiatives have advanced beyond expectation.
In 2009, USC became the first private research university to develop a military social work program. Numerous reports and research showed that increased numbers of service members were returning from Iraq and Afghanistan suffering from combat stress disorders, like post-traumatic stress disorder and traumatic brain injury. The USC School of Social Work was ideally situated to help address their needs. As more service members return home from deployments, social workers have increasingly been the ones who diagnose and treat the issues that arise during a transition home.
USC's program aims to graduate students who are prepared to meet the unique needs of active-duty service members, veterans and their families. Through its numerous locations, including the web-based MSW@USC, the program is attractive to veterans and military spouses and dependents who already understand the unique challenges associated with the military and are interested in careers that will help others in similar situations.
The program has grown from just 12 graduates to more than 700, since its inception.
CIR was instrumental in the growth of the military social work program with its research and expertise informing much of the curriculum. Anthony Hassan joined the school as the chair of the military social work program and the inaugural director of CIR. A retired Air Force officer, he brought more than 25 years of experience in military social work and leadership development. Over the years, CIR has become a leader of local veterans issues through its research, training and global engagement efforts, and has helped cement the university's position at the forefront of local veterans issues.
"It's easy to shine at USC when you have amazing supporters," Hassan said. "Thank you to my team, our friends, colleagues and champions who are all dedicated partners in this quest to support our military, veterans and their families as they return home."
As you know, the military population is confronted with difficult and enduring challenges that do not lend themselves to simple solutions. CIR plans to continue to confront these challenges and conduct cross-disciplinary research, experiment with technology applications, and develop new forms of behavioral health practices as a means to lead to the translation of evidence-based science into professional practice.

Given today's rapidly evolving, complex, intellectual landscape, we will continue  to improve military-focused training and education by harnessing leading advancements in a wide range of disciplines, and exploring innovative approaches that can be applied to a foundation of empirically sound practice and knowledge. We will strive to make our education and training available to all clinicians anywhere anytime using the most advanced technology platforms, like virtual technologies, 3D realistic human animations, and virtual therapy platforms in a global environment.

Our global engagement is a force for positive transformation. We recognize the power of collective action, and as such, will continue to bring together communities, locally and globally, through interdisciplinary research, local initiatives, educational symposia, visiting scholars, immersion programs, social media outreach, and working partnerships that target the health and well-being of community veterans and their families to reduce suffering and suicides.

Finally, as the committed leader in military behavioral health, CIR will strive to attain—and to exceed—the goals we have set forth.  In order to do so, we will continue to seek partnerships to create the resources needed to jump-start research projects, as well as bridge funds to close the critical gap between research discoveries and the direct application of those discoveries. CIR will regularly examine all of our future undertakings in a manner that preserves quality and integrity above all else.

-Anthony Hassan
Director
Nov. 6, 2014
CIR's Notable Accomplishments
Military Behavioral Health Research with Consequence
Conducted ground-breaking research on often-overlooked problems facing our service members and veterans, such as the new invisible wounds or how military experience and combat can impact sexual functioning.
Conducted the first comprehensive assessment of Los Angeles' military population. The data from the Los Angeles County Veterans Study will help propel effective policies and programs to better serve all of our returning veterans.
Expanded that research model to the Orange County veteran population that will help paint a better picture of the experiences faced by veterans in California, home to the highest population of veterans in the nation.
Carl Castro, director of research, developed a military transition theory that will help pinpoint when veterans are most susceptible to the challenges of transitioning to civilian life, a crucial first step in targeting effective intervention programs.
Transformative Education and Training
Developed free continuing education courses for behavioral health providers working with military populations.
Expanding use of virtual technology in classroom settings to help students and clinicians work with military populations.
Partnered with Prudential to host conferences across the country to train behavioral health providers who will be a first contact for many veterans when they transition to civilian jobs. To date, have held conferences at Rutgers University, University of Washington Tacoma, University of Maryland and University of Louisville.
Global Engagement
The CIR-convened Los Angeles Veterans Collaborative is quickly becoming a model to replicate nationally to help meet the needs of veterans and military communities.
Promoting the collaborative model to leaders in Washington, D.C. In an era where many organizations are hoping to help veterans and military families, this model that proved itself capable of harnessing collective expertise to deliver effective solutions.
USC School of Social Work leaders were invited to Taiwan, Singapore, Japan and England to share our military social work expertise as these countries equip their militaries and communities with competent mental health capacity.
Numerous global visiting scholars have asked to work with us.
Hosting first summit for military research centers in February 2015 that will convene national and international military behavioral health research leaders and scholars.
Related: