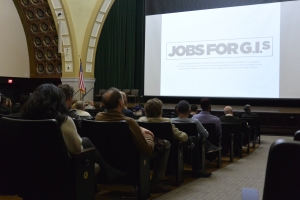 Local veteran hiring issues were spotlighted during a recent screening of "Jobs for GIs" documentary that followed a handful of local veterans as they navigated the various resources available in Los Angeles aimed at helping veterans find employment.
Held Jan. 20 at Bob Hope Patriotic Hall and in partnership with the Los Angeles Veterans Collaborative, the screening was followed by a panel discussion of the issues addressed in the documentary. Some panelists included Dan Goldenberg, executive director of the Call of Duty Foundation; Lisa Anderson, veterans employment services manager at the Salvation Army Haven; and Blas Villalobos, veterans affairs manager with the office of Los Angeles Mayor Eric Garcetti.
"This film is important for a lot of reasons. It exposes the complications and hours of tremendous effort by many different people and organizations needed to help returning veterans find meaningful employment," said Nathan Graeser, CIR community administrator.
"Jobs for G.I.s" follows five veterans from different backgrounds and branches of the military (Army, Air Force, Navy, Marines) as they try to make sense of the civilian job market and use different assistance agencies to help them determine where they fit in. The documentary takes place in and around Los Angeles, home to more homeless and jobless veterans than any other major city in the country. DIRECTV and U-verse customers can watch "Jobs for G.I.s" on U-verse Channel 1114 and DIRECTV Channel 239. They can also live stream it on the DIRECTV App and U-verse App for smartphones and tablets, directv.com and uverse.com.
AT&T, AUDIENCE Network and the Los Angeles Veterans Collaborative hosted the screening to help bring awareness to the hardships facing veterans and inspire conversation about possible solutions for veteran recruitment and employment in Los Angeles and beyond. Other collaborating organizations include: Garcetti's "10K Strong" veteran-hiring initiative and the Los Angeles County Department of Military and Veterans Affairs.
"Hiring veterans is not only the right thing to do, it's good for business," said Ken McNeely, President, AT&T California. "Veterans are an invaluable part of AT&T's workforce, and we are proud to join with AUDIENCE Network and many leading Los Angeles veterans organizations to help raise awareness and inspire conversation about the importance of finding veterans employment, and the contributions they make in the workplace."